A Brand New Darkness is inspired by The Reptile House E.P by the iconic Leeds based group The Sisters of Mercy. The title comes from a verse in the song Lights:
The lights shine clear through the sodium haze
The night draws near and the daylight fades
Ignore the voices, discard the day
For the brand new darkness, for the bright new way. [Lights]
Written in the midst of the Thatcher years in Britain and the Cold War and heavily influenced by the poetic abstraction of T.S Eliot, The Reptile House E.P was to that point at least the band's most political work.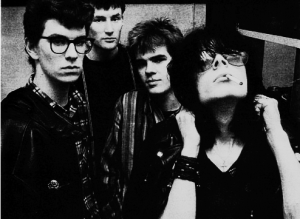 The Sisters of Mercy evolved out of the early 1980s Leeds music scene and was the brainchild of Gary Marx and Andrew Eldritch. This was in the pre-Universal Credit time where a pseudonym would mostly keep the dole off your back unless someone that worked there drank in the same bar and was somebody you'd really pissed off. There's probably a doctoral thesis to be written about the people that ended up in the arts originally because it was a way to avoid a proper job. This writer was of course one of those. The Creative Industries meant a different thing then. At any rate Marx and Eldritch wanted to hear themselves on the radio and recorded a single on their own Merciful Release that Eldritch later described as being hard to find and even harder to listen to. Later Craig Adams was drafted in as was Dr Avalanche, a cheap drum machine because if they are to be believed nobody could drum properly. Though it helped them sound a bit like Suicide which was a bonus. Benn Gunn was added as a second guitarist shortly after their first proper gig in York supporting the Thompson Twins who were at that point a very experimental outfit. People of a certain age may find that hard to believe. In 1982 the band recorded the poetically titled Body Electric/Adrenochrome single for the CNT label and began to garner critical acclaim (apart from the now defunct NME) and released material would feature in the Indie charts and be played on John Peel.
The Reptile House would see Eldritch's lyricism taken to a new level of sophistication and insight. Indeed the E.P. and the later Vision Thing album are scarily prophetic in their insight as to how Western society and America in particular was shaping up.  The Reptile House envisages an apocalyptic society (half reality, half the narrator's (Andrew Eldritch) amphetamine fuelled brain) in which drugs, reality television and the smack of firm government meet to control and cull the populace:
A shiny love song a quick incision
Cut him down on television
A people come to this
Beyond the age of reason. [Valentine]
This was released in 1983. Very prophetic. Love Island anyone?  The work in the exhibition gives us a glimpse of a similar world both real and two steps from reality. Obviously we're not in the 1980s and there have been many political, social, economic and technological revolutions since. Implicit in one definition of 'revolution' though is something circular so we are all once again back in the midst of often vitriolic discussions of race, gender, identity, sexuality, and environment. Even the language of the Cold War has returned. It gets harder to curate using the aesthetics that we do as seemingly no matter how far you stretch things the real word raises the stakes even further. We still try of course.
This show explores various apocalypses both micro and macro though of course even the most personal apocalypse is by its moniker world-changing. In the Abridged tradition it doesn't preach or offer answers. Rather it suggests paths to take, eco-systems to explore. To find or lose yourself in. We have Kelly Richardson's Twilight Avenger in which an eerily glowing stag could either represent the dawn of a new age or the defiant last gasp of this one. There is an uncertainty inherent in Richardson's work that leaves room for a tint of hope. We're big fans of Kelly's work and we were delighted to have her on board for the 0 – 10: Haunted issue and exhibitions. Most magazines would have a reading for their anniversary. We (with help of Void and MCAC Portadown) created a couple of exhibitions fused with the apocalyptic-sublime.
Similarly, we see in Lorna Simpson's Cloudscape a man (actually the late Terry Adkins) enveloped in smoke whilst whistling the tune of a late 19th Century spiritual. We see him overwhelmed by smoke as it merges with the tune to create a melancholy lament but suddenly as we think we have it figured time reverses as do our certainties as to who exactly is in control. This is actually one of our favourite pieces of video-work ever. We are delighted to be able to show it finally. We saw it once before at the Baltic Gallery in Gateshead, England and we're blown away by it. It's poetry, power and simplicity made it something we rarely see. It took us a while to be able to show it but finally we are delighted to show this work from one of the leading African-American artists.
Zoe Murdoch in the 'Aftermath' series imagines a world after the Bomb has fallen with humanity (in both senses of the work) trying to reassert itself. What can you built out of ultimate destruction?  The possibility of nuclear catastrophe has come into vogue once more as society ignores or forgets the destruction that these weapons are capable of. Murdoch's work is a timely reminder of their consequences. Regular readers of Abridged will know that Zoe has featured prominently in the magazine and even had 0 -13: completely visually to her self and her Chernobyl work. Some artists 'get' Abridged for want of a better word and Zoe is one of them.
David Haughey's work from According To Our Historians A Meteorite Fell Hissing is based on the novel "We," by Yevgeny Zamyatin which hints obliquely at a cataclysmic 200 year war. Haughey's compositions also suggest something terrible beyond the realm of our lived experience and explores how we attempt to grasp meaning from often abstract glimpses of heavily mediated data. We came across David's work quite recently. People these days point out to us what they think is Abridged and what we'd like. Something we're very glad they do. His painting speak to us on an abstract yet visceral level. With most crisis we only ever get a glimpse of the magnitude of things and in David's work we saw bits of things that we're similar to Abridged thinking.
Of course, the apocalyptic exists in the everyday and many of us experience life crises that completely change our perspective on ourselves and the world around us and we find ourselves on the Event Horizon. Fiona Hession's compositions seem to draw us inside them and they probe the societal pressures that often becomes too much for us. A society that often is one of the main causes of a Metal Health epidemic whilst ignoring and condemning those that suffer its consequences. We've been big fans of Fiona's work for quite a while now and are delighted that she featured not only in this show but in our Why Is it Always December? show  a couple of years ago.
In the society we inhabit there is no room for a perception of weakness or fragility apart from that which is beautiful and is marketable. Ian Cumberland's work presents us with at first glance with images of young beautiful people but if we look closer we notice the beginnings of decay and even as the strange black holes envelop them all they can see is on the shiny surface is the reflection of themselves being eaten up. We're not sure if they're too far gone to care. Perhaps the ultimate selfie is the one beyond the Event Horizon. Ian made us aware of his work a few years ago and we think he's one of the finish painters operating at the moment. There's a darkness to his work that goes way beyond it's apparent obsessions with surface and the beautiful and appeal to us enormously.
We're thankful to Maeve Mulrennan in Galway and everyone that made this show possible. We'll see you next Friday at the opening we hope!